Support OYC FAQs
Support OYC FAQs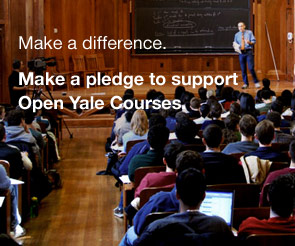 We know that you may have some questions about supporting the Open Yale Courses project. We have started to collect the most frequently asked questions about the support campaign and have provided answers below. We will add new information to this page as we are contacted to respond to new inquiries. If you have a question that is not answered below, please don't hesitate to email Lucas.Swineford@yale.edu. We appreciate your help.
1. Does my cash donation provide any tax benefits?
A majority of the gifts made to Yale come in the form of cash, via check, credit card, or wire transfer. A gift of cash entitles you to the most generous federal income tax deduction available for charitable contributions. You may deduct up to 50 percent of your adjusted gross income for gifts of cash and may carry any amount over that figure forward for up to five additional years.
2. May I donate by check or phone?
Yes, there are other ways to donate.
By check
Gifts may be made via checks payable to:
Yale University
Office of Development
Contribution Processing
Open Yale Courses Fund
P.O. Box 2038
New Haven, CT 06521-2038.
Note: Please write Open Yale Courses in the memo line of your check.
By phone
For payments by Visa, Mastercard, or American Express, please visit Give Now or call 800.395.7646 or 203.432.5436.
3. Do you accept matching gifts from my employer?
Yes. If your company or firm offers a matching gift program, the value of your gift to Open Yale Courses can be increased significantly.
Please visit http://www.matchinggifts.com/yale/ to find out if your company has a matching gift policy. If it does, your human resources or employee relations office can provide you with the necessary forms.
Make a difference. Make a pledge to support Open Yale Courses.